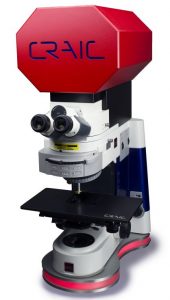 20/30 PV™ Microspectrophotometer
The innovative 20/30 PV™ microspectrophotometer is the latest and most powerful instrument from CRAIC Technologies. Built to meet your requirements, this bespoke instrument incorporates the latest technological advances in optics, spectroscopy and software to deliver the superior performance with unparalleled speed and capabilities. The ease-of-use for which CRAIC instruments are known has even been improved, making this instrument the cutting edge of UV-visible-NIR microspectroscopy.
Key Features*
The 20/30 PV™: superior UV-visible-NIR spectra and images of microscopic samples.
Spectral Range: 200 to 2500 nm
UV-visible-NIR transmission microspectroscopy
UV-visible-NIR transmission imaging
UV-visible-NIR reflectance microspectroscopy
UV-visible-NIR reflectance imaging
UV-visible-NIR fluorescence microspectroscopy
UV-visible-NIR fluorescence micro-imaging
Raman microspectroscopy
Polarization microspectroscopy in the UV, visible and NIR regions
Polarization microscale imaging in the UV, visible and NIR regions
Thin film thickness measurements
Colorimetry of microscopic samples
Refractive index measurements with the rIQ™ package
Manual or fully automated operation
Featuring Lightblades™ technology
Integrated TE cooled array detectors available for low noise and long term stability
Precision temperature control of samples
Calibrated, variable measurement areas even smaller than a micron
Superior images both with eyepieces and digital imaging
Featured with Lambdafire™ spectroscopy and imaging control and analysis software. Lambdafire™ also includes touchscreen control
Specialized software modules including statistical analysis, spectra mapping, spectral databasing, image analysis and more
Easy to use and maintain
From the experts in microspectroscopy
20/30 PV Microspectrophotometer